Purificador de agua
EsenciaWater
EXCELLENT DIRECT
The most advanced and environmentally friendly water purifier on the market
DIRECT FLOW REVERSE OSMOSIS
ESENCIAWATER
EXCELLENT DIRECT
Esenciawater Excellent Direct is the most environmentally friendly, functional and convenient water purifier on the market. It is simply the best.
The system contains a technology that allows you to obtain water of two different qualities, with medium or weak mineralisation. You can choose the taste of water you like best, both for drinking and cooking.
We have designed a tap with two controls, with the initials MM and MD. One offers you water with weak mineralisation (MD) and the other the possibility of enjoying medium mineralisation (MM).
High efficiency membrane
"600 GPD capacity"
Increased production of purified water
Over 2 litres per minute.
Incorporates an alkalising/remineralising system
Regulating the percentage of minerals and balancing the PH.
Intelligent self-cleaning
Avoiding obstructions and incrustations, extending service lifetime and guaranteeing top water quality.
Lowest rejection rate in the market
0.5 litres per litre of water.
Tankless equipment, guaranteeing top quality water instantly, directly from your tap.
EXCLUSIVE ESENCIAWATER FILTRATION SYSTEM
Removes 99.9% of heavy metals, chlorine, rust, etc.
Removes large particles, sediment, rust.
A 5-10 µm accuracy eliminates 80% of chlorine.

Elimination of large particles, sediment, rust.
Elimination of chlorine, odours, and improved taste.
Elimination of carbon particles.
Descubre las ventajas de EsenciaWater Excellent Direct
Water quality detector
The Intelligent Purify system incorporates digital water quality gauges at the inlet and at the end of the purification process, and whose values appear on the machine's display.
High efficiency direct flow
EsenciaWater Direct produces 2 litres of water per minute without the need for a storage tank. It treats the water at the time of consumption, so just like a natural spring, the water is never stagnant.
Aquastop leak detector
EsenciaWater Direct incorporates a water leak detector that automatically disables the machine for complete peace of mind, even if the system is not used during prolonged absences.

Automatic cleaning system
The system flushes the membrane automatically every 24 hours with clean water in order to optimise performance, avoid incrustations and prolong the working life of the membrane.
Ecology and Life
"¡¡SAVE MONEY WHILE CARING FOR THE ENVIRONMENT!!"
"100% environmentally friendly"
The water in our purifiers is "Kilometre 0".
Haulage logistics are not necessary, and with no plastics or fossil fuels to transport it, there is no pollution. So if you join us with Esencia Water, you join the cause of CARING FOR THE PLANET.
More than 8 million tons of plastic bottles end up in the sea every year, and it is estimated that by 2050 there will be more plastic in the sea than fish. It's time for this to stop.
A smart tap
for a smart purifier
Check easily the status of the filters thanks to the…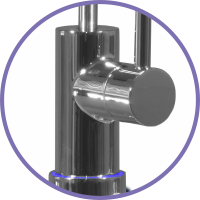 PRESSURE (MAX. MIN.) · 4-1 bar (400 - 100 kPa)
TEMPERATURE (MAX. MIN.) · 38º / 5º C
ADAPTER · 100 / 240 VAC 60 / 60Hz
OUTPUT (MAX.) · More than 2 litres per minute